About this consultation
Having considered the responses to the earlier phase of consultation, we are now seeking your views again on the refined short-list of options. Your feedback will be used to influence how the options are developed, inform the Strategic Outline Business Case being prepared later this year and will help us to make the case for investment in improved transport connectivity in the Abbey Wood to Ebbsfleet Corridor.

This consultation is now closed.


What is the C2E Partnership?
The C2E Partnership was formed in 2016 as an informal group of authorities to promote an extension of the Elizabeth line beyond its current planned terminus at Abbey Wood towards Ebbsfleet. It is comprised of stakeholders that represent local communities in the area including:
London Borough of Bexley;
Dartford Borough Council;
Gravesham Borough Council;
Ebbsfleet Development Corporation;
Kent County Council;
The Greater London Authority; and
Greater North Kent Partnership
The Partnership works closely with public transport infrastructure providers, particularly Network Rail and Transport for London.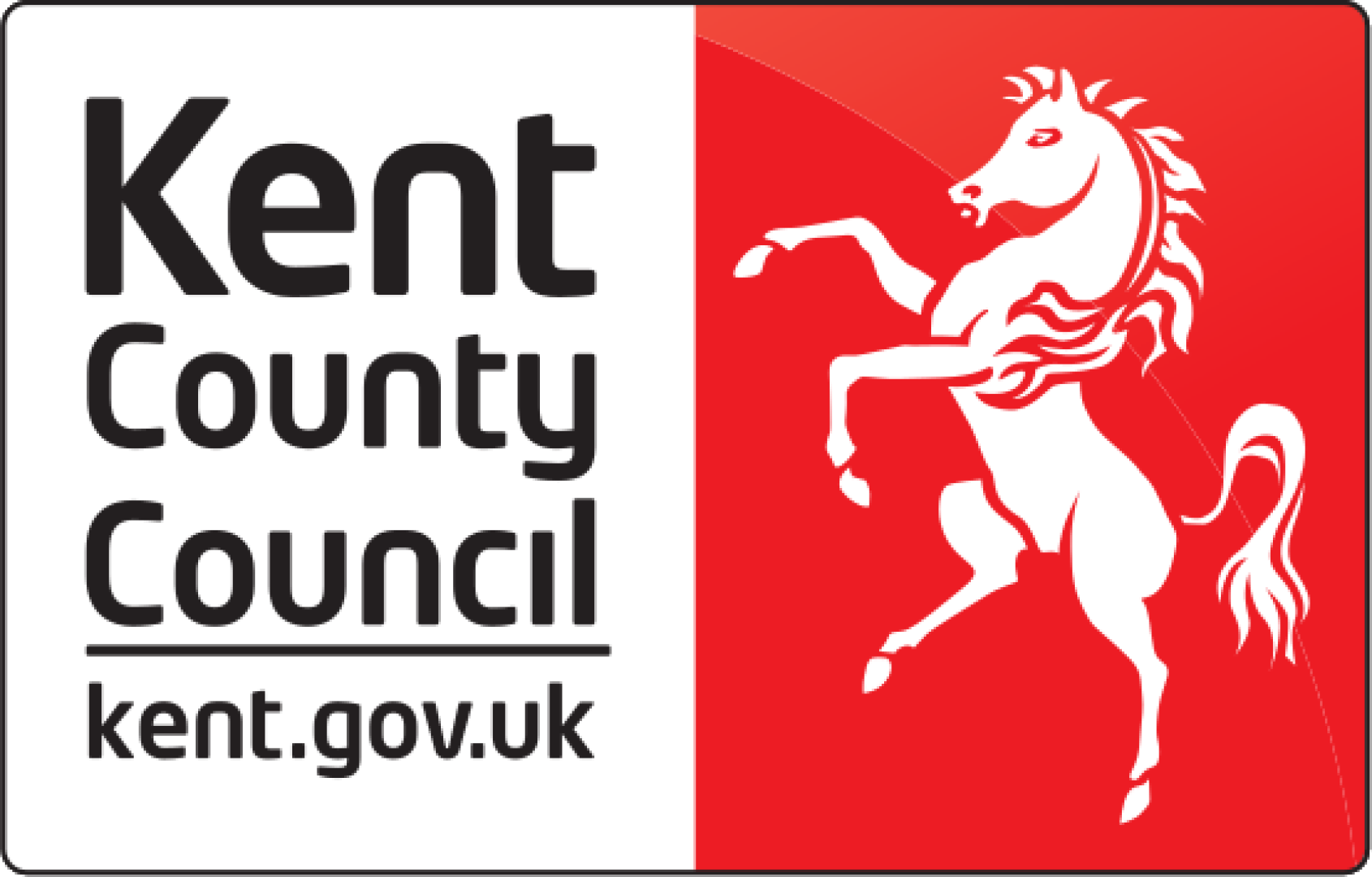 The wider growth agenda and the study area
The Abbey Wood to Ebbsfleet Corridor is an area of great potential and has significant strengths, including its proximity to central London and international connectivity. It is located within the Thames Estuary, an area with much larger regeneration opportunities that extends north and south along the River Thames from London out into the Estuary. Within London, the Thames Estuary represents a major opportunity and priority area for eastwards regeneration.

Yet, there are several social and economic challenges in the Corridor including pockets of deprivation, large areas of underutilised land and demographic change. These challenges are putting increasing pressure onto existing services and facilities which mean that the Corridor is not yet reaching its potential. 

Infrastructure is central to achieving good growth and ensuring homes and places meet the needs of the community and create thriving and affordable places. There are significant development opportunities already identified in the Corridor, including 15,000 new homes at Ebbsfleet Garden City, up to 31,500 homes in Bexley and further potential for growth in Dartford and Gravesend. 

Additional new transport infrastructure could help to support further new homes and jobs and uplift skills and education by providing improved connections between economic hubs. This type of infrastructure can help enable places to realise economic potential and ensure economic resilience by building a vibrant economy, establishing new town centres and improving access to services such as education and health.
Why are improvements to public transport needed between Abbey Wood and Ebbsfleet?
The London Borough of Bexley, and the boroughs of Dartford and Gravesham, supported by Kent County Council and the Greater London Authority, have plans to support more jobs, make their town centres more attractive and build more high-quality homes for their communities.

Improvements to the transport network in these boroughs aim to support these plans by:
Making it much easier to travel by public transport to key locations along the route, including Ebbsfleet International, Dartford town centre, health and education facilities and many key employment locations within the area.
Improving journey times and connections into central London, Canary Wharf and Heathrow Airport and within the local area.
Attracting more investment and supporting plans for the development of new homes, jobs and leisure facilities, including new town centres at Belvedere and Ebbsfleet.
Supporting and enhancing the quality of existing town centres in the area including Erith and Dartford.
Reducing reliance on the car, thereby reducing carbon emissions, improving air quality and health.
What is transport connectivity like currently?
Southeastern provides the majority of rail services operating on the North Kent lines into London, with services available into London Bridge, Charing Cross, Cannon Street, and Victoria.

Thameslink also serves the Corridor providing a half hourly service that operates through Central London from Rainham to Luton.

The most frequent services are into London Bridge and from Dartford there is a peak frequency of 8 trains per hour and a fastest journey time of 30 minutes. However, many of the services to other London termini (e.g those servicing the West End of London) are less frequent and are slower services, with journey times of over 50 minutes.

The frequency of services reduces significantly between Dartford and Northfleet. Services via Abbey Wood provide a significantly higher frequency of service into London (8 trains per hour) than the Crayford and Bexleyheath lines (each 4 trains per hour). High Speed 1 rail services into London are also available into London St Pancras from the Corridor from Ebbsfleet and Gravesend operating at up to 3 trains per hour. These offer very fast journey times into London, but at a premium fare and do not serve the rest of the Corridor.

Fastrack provides a network of bus rapid transit services operating in North Kent. It utilises a combination of segregated non-guided busways and bus priority facilities at junctions to provide strategic linkages between Dartford, Bluewater, Greenhithe, Swanscombe, Ebbsfleet station, Northfleet and Gravesend.
The wider bus network serving the Corridor reflects the fact that the western part of the Corridor within Bexley falls within the Transport for London regulated network while east of Bexley services operate under de-regulated bus service arrangements. Local buses play a key role in the Corridor by providing access to the key district and employment centres and for providing access to rail stations from residential areas, but the frequency of services and journey times do not offer an attractive alternative to those with access to a car, and there is a lack of cross-boundary services operating between the Kent authorities and Bexley.

The A2 is the dominant strategic highway route between Kent and London serving the Corridor. It is heavily trafficked and is a key route for freight to the Channel Ports. In addition, the area also encompasses the M25/A282 southern approach to the Dartford Crossing. These major strategic highway routes, while providing the area with excellent strategic highway network connectivity, generate very large volumes of traffic, and associated challenges of traffic congestion, poor air quality, traffic noise, high CO2 emissions and physical severance that adversely impact the quality of life and environment for local residents and businesses. 
Improvements to the transport network within the area already planned for the near future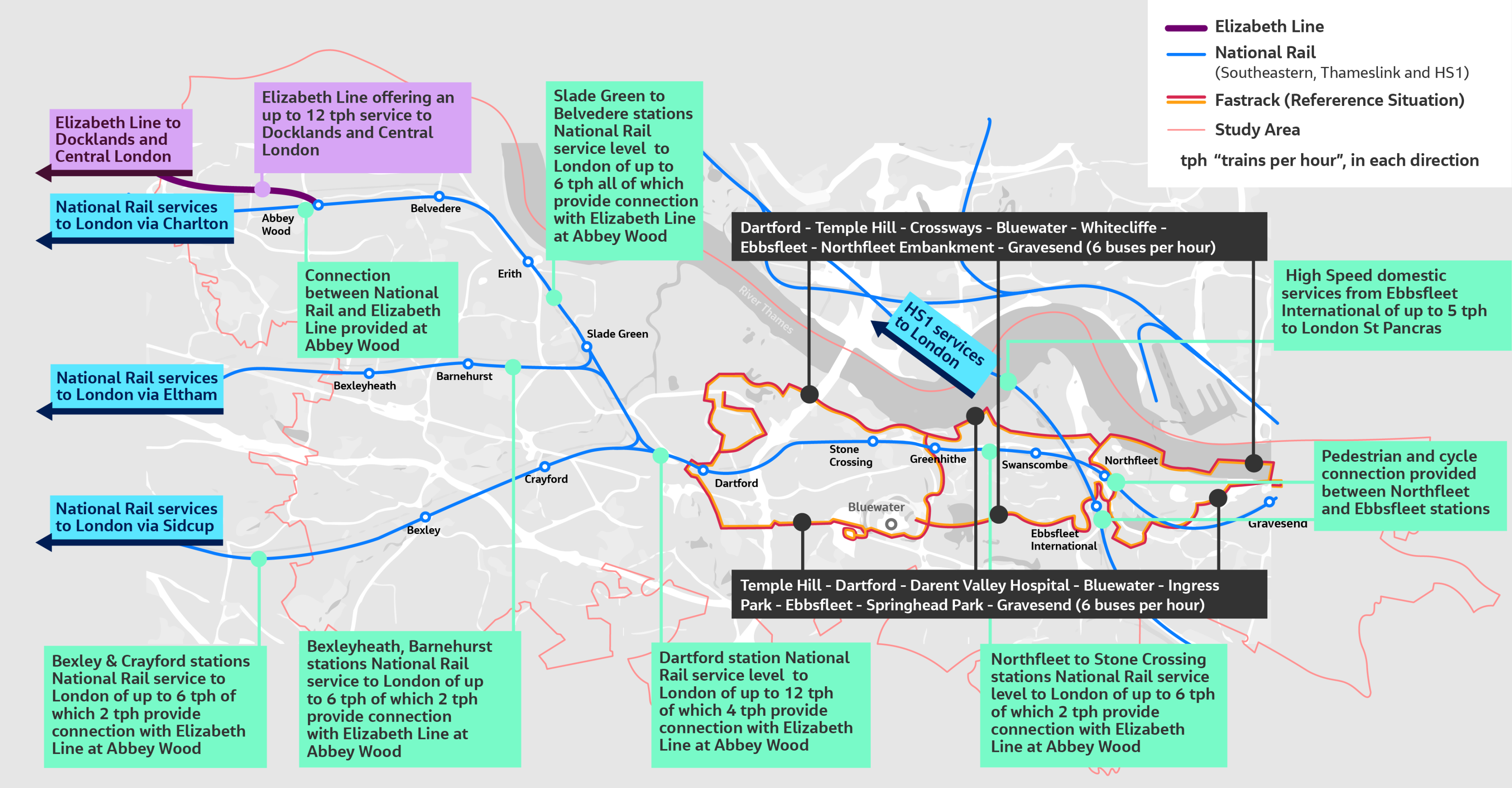 Map showing rail and Bus Rapid Transit (BRT) services planned in the near future


There are some existing improvements to the transport network in the area which are expected to be implemented in the near future, although the ongoing pandemic means that further changes could be possible. These improvements will happen regardless of any of the transport interventions proposed by the C2E Partnership and they form the Reference Situation which is used as a comparison with each of the proposed transport options.

Whilst these improvements will deliver more local benefits, they are not expected to provide significant improvements to connectivity throughout the Abbey Wood to Ebbsfleet Corridor.
Rail improvements
The National Rail timetable introduced in December 2019 and providing train services between Abbey Wood and Ebbsfleet/Northfleet, is assumed to remain in place in future.
The Elizabeth line is expected to open in 2022, introducing up to 12 trains per hour between Central London and Abbey Wood station at peak times. The Elizabeth line will provide:
4 trains per hour Abbey Wood to Paddington
4 trains per hour Abbey Wood to Heathrow Terminal 4
2 trains per hour Abbey Wood to Heathrow Terminal 5
2 trains per hour Abbey Wood to Reading (peak only)
There are also potential proposed improvements for Southeastern Rail services on the North Kent Line, such as the introduction of longer trains and new rolling stock with walk-through carriages, which would provide more space for passengers. 

The Ebbsfleet Development Corporation (EDC) – one of the entities forming the C2E Partnership – is also developing plans for new homes and jobs growth in the vicinity of Ebbsfleet International station. As part of these plans, a new, direct passenger link between Northfleet and Ebbsfleet International stations will be created, providing a significantly easier and quicker interchange between HS1 and North Kent Line services.

No further rail service improvements are currently planned that would improve connectivity between Abbey Wood and Ebbsfleet.
Bus/Bus Rapid Transit (BRT) Improvements
Currently Fastrack operates between Dartford and Gravesend using a mixture of dedicated busways and operations on the local road network, supported by bus lanes and other bus priority measures. It complements existing bus and rail services by providing high frequency Bus Rapid Transit (BRT) services between major residential areas, employment sites, Bluewater Shopping Centre, Darent Valley Hospital and Dartford and Gravesend town centres.

Kent County Council plans to expand the existing Fastrack services between Dartford and Gravesend to serve key developments.
The Fastrack bus network in Kent is expected to be improved over the next two years as follows:
Route A is due to be extended from Bluewater to Gravesend through development sites at Eastern Quarry and Northfleet Embankment
Route B is due to be diverted via development sites in Springhead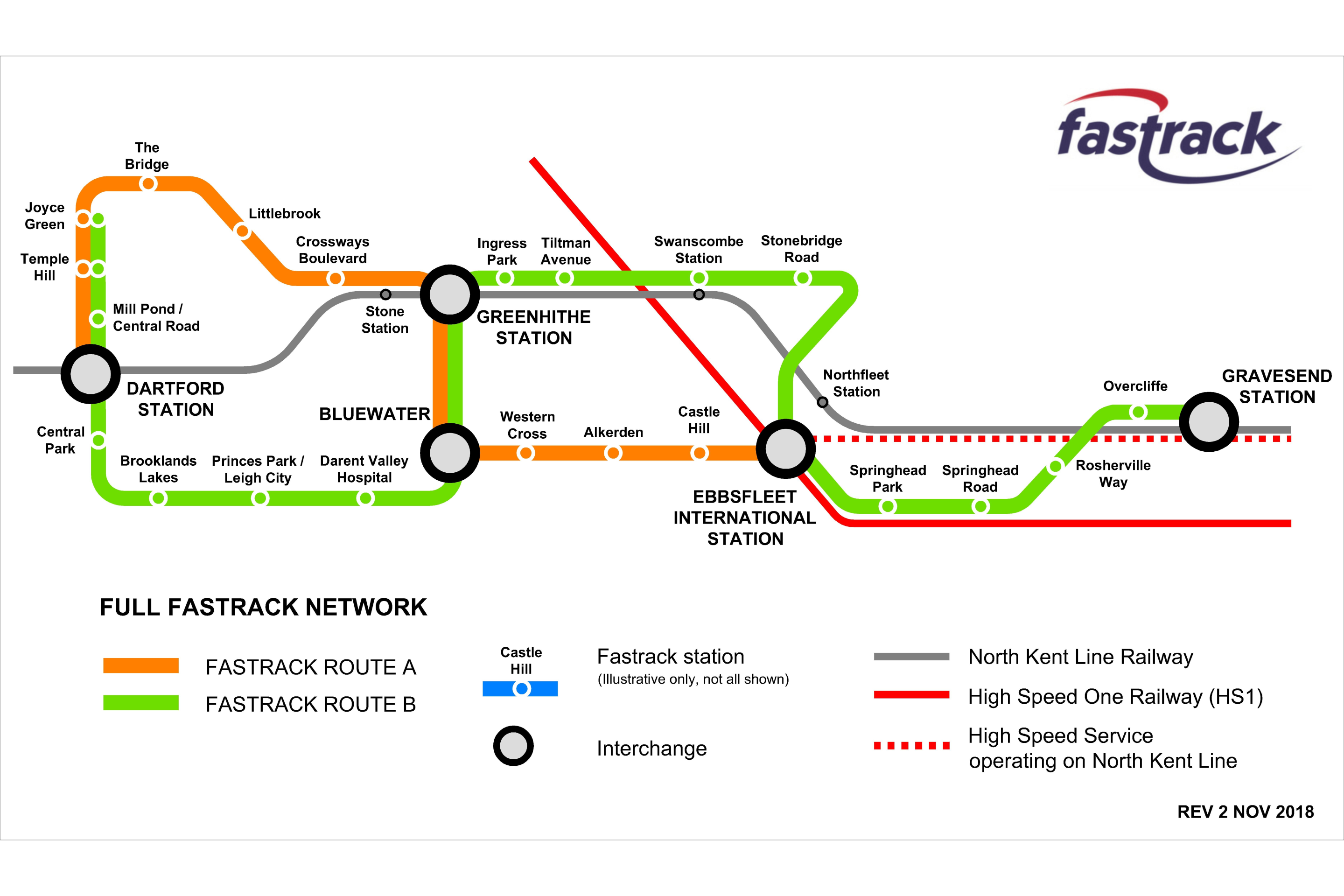 The whole Fastrack BRT fleet will be moving from diesel buses to zero emission bus fleet from October 2022 with the start of the new Fastrack operator contract service. This will bring further reductions in CO2 emissions and improvements in air quality.
When assessing the options for further transport connectivity improvements we will compare the benefits and impacts of the proposed options assuming these already planned/committed improvements will be fully implemented.


The strategic objectives and critical success requirements to be met by a transport scheme
As part of the study a set of objectives and critical success requirements has been identified. These establish the key benefits that are being sought from improving connectivity in the area and the key requirements to be met for a solution to be considered deliverable and acceptable for implementation. These are presented below: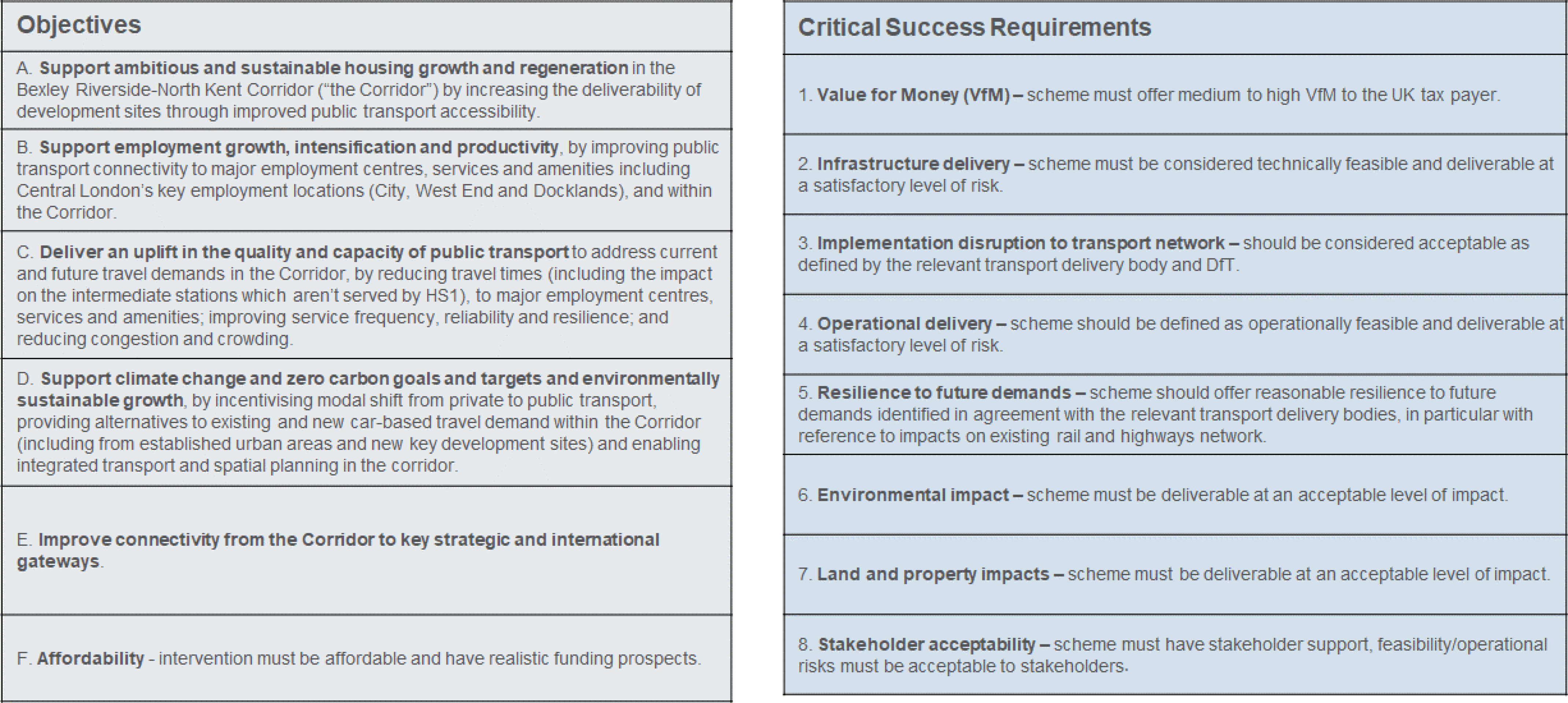 Image showing the strategic objectives and critical success requirements for the study