Why are we consulting on improvements to the public transport network between Abbey Wood and Ebbsfleet now?
Following engagement with the C2E Partnership in 2018, the Thames Estuary Growth Commission recommended that Government allocate funding to explore the feasibility of extending the Elizabeth Line from Abbey Wood to Ebbsfleet.
In its response to the Thames Estuary Growth Commission recommendation, Government announced it would support the C2E Partnership to develop options to enhance transport services in this area, in order to facilitate new housing and economic growth. The Partnership agreed that the scope of this work should include consideration of a wider set of options beyond those to extend the Elizabeth Line.
The Partnership is now leading this work and expects to report the results of the study back to Government later this year. This consultation is the first of two that will be undertaken this year, with your feedback important to how we develop the options.
Note that there is no funding commitment to any public transport improvement at present. Based on several precedents, it is likely that the most ambitious and expensive schemes (such as an Elizabeth Line extension), which deliver the greatest and widest benefits, would require financial contributions from those businesses and residents who benefit the most. The options for such local and regional funding contributions will be considered as part of the next stage of the Study.
Your feedback is important to help Government decide whether there is a case to support a scheme.
Are any improvements to the transport network within the area already planned for the near future?
Yes. There are some existing improvements to the transport network in the area which are expected to be implemented in the near future.
Whilst these improvements will deliver more local benefits, they are not expected to provide significant connectivity and homes and jobs growth benefits more widely throughout the Abbey Wood to Ebbsfleet corridor.


Rail
The National Rail timetable that was introduced in December 2019, providing train services between Abbey Wood and Ebbsfleet/Northfleet, is assumed to remain in place in future.
The Elizabeth Line is expected to open in 2022, introducing up to 12 trains per hour between central London and Abbey Wood station at peak times. There are also proposed improvements under the next franchise agreement for South Eastern Rail services on the North Kent Line, such as the introduction of longer trains and new rolling stock with walk-through carriages, which would provide an uplift in passenger capacity.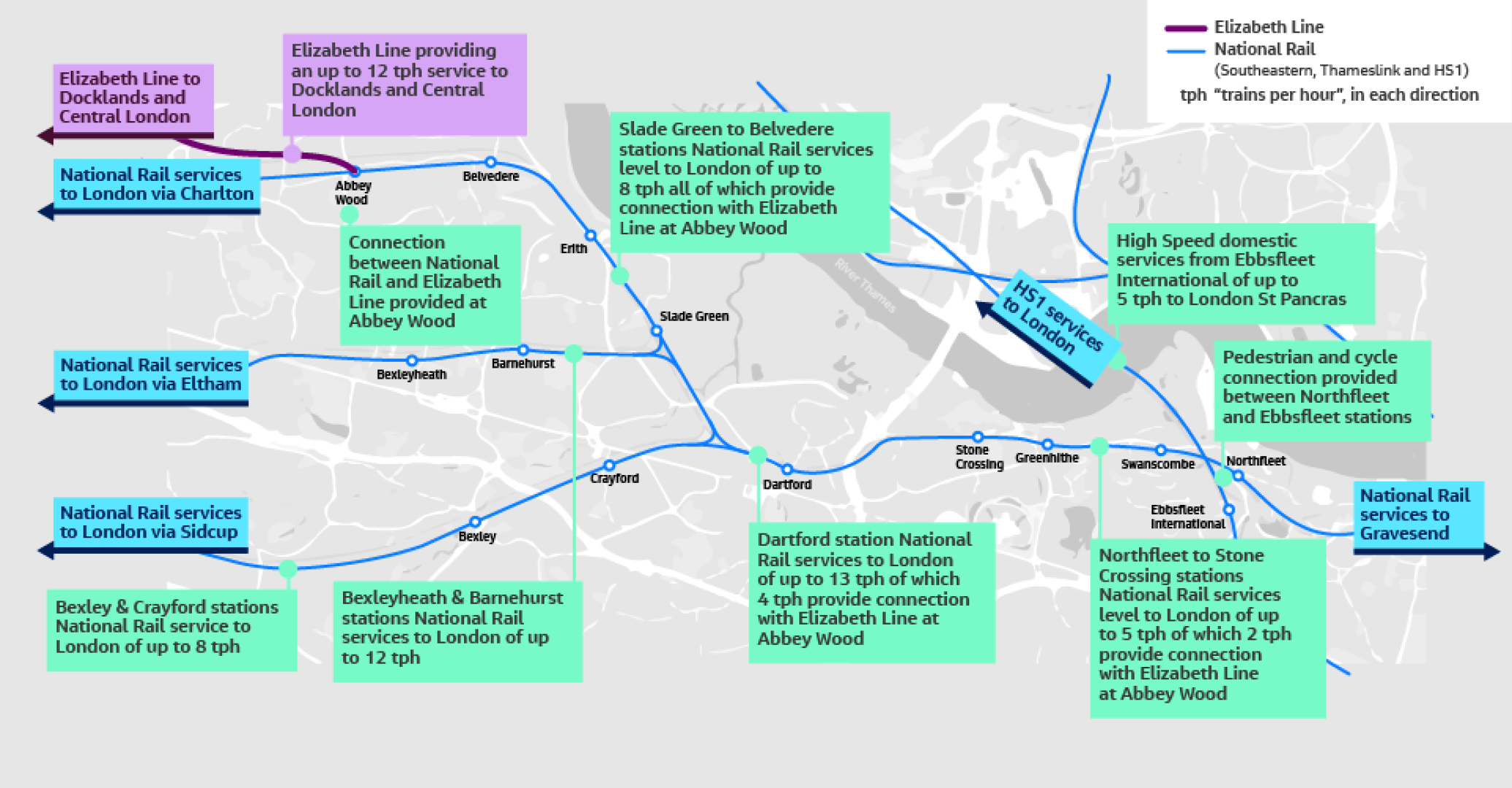 Click the image above to enlarge
Bus/Bus Rapid Transit (BRT)
Conventional local bus services consist of services operated as part of the Transport for London network in Bexley, and in Dartford and Gravesend services operated by Arriva Kent Thameside.  Services crossing the Bexley / Dartford boundary are limited to three routes providing access for London residents to Dartford town centre, Darent Valley Hospital and Bluewater Shopping Centre. 

Currently Fastrack operates between Dartford and Gravesend. Fastrack uses a mixture of dedicated busways and operation on the local road network, supported by bus lanes and other bus priority measures. It complements existing bus and rail services by providing high frequency Bus Rapid Transit (BRT) services between major residential areas, employment sites, Bluewater Shopping Centre, Darent Valley Hospital and Dartford and Gravesend town centres.
Kent County Council plans to expand the existing Fastrack services between Dartford and Gravesend in the near future to provide high quality public transport services to key developments at Springhead Park, Whitecliffe / Eastern Quarry and Northfleet Embankment.
The Fastrack bus network in Kent is expected to be improved over the next two years as follows:
Route A is due to be extended from Bluewater to Gravesend through development sites at Eastern Quarry and Northfleet Embankment
Route B is due to be diverted via development sites in Springhead
Fastrack buses are also due to be converted from the existing diesel engines to electric operation, bringing further environmental benefits.
When assessing the options for further transport connectivity improvements we will compare the benefits and impacts of the proposed options assuming these planned/committed improvements will be fully implemented.
Go to 'Developing options'